What We Are Made Of: A Mosaic Experience
Mosaic art has the power to tell a story on many different levels. It evokes a layered experience, starting with a big takeaway, and then drawing viewers in to reveal smaller components.
To reach, connect, and engage diverse communities across the nation, Communities In Schools is using the medium of mosaic art to illustrate the vital role we all play in seeing the story within every student. Each mosaic portrait is assembled with elements from students' lives that represent who they are as individuals as well as the Communities In Schools services that helped them succeed.
This vibrant collection of student portraits provides a multidimensional view of the challenges and triumphs students across America experience every day. When we take a closer look at this generation—when we go beyond traditional academics and really examine the social and emotional factors that make these young people who they are—we begin to understand the richer story today's students have to tell.
By recognizing and celebrating the complexity of every student we work with, Communities In Schools empowers young people to reach their full potential both in and out of the classroom.
---
WHO CREATED THE MOSAIC ART?
JASON MECIER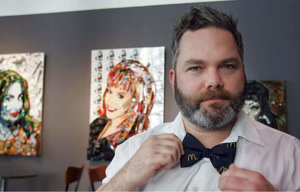 The mosaic portraits featured on this website were created by renowned pop artist Jason Mecier. His artwork has been featured everywhere from Entertainment Weekly to The New York Times; on TV shows like Glee, The Today Show, and Martha and Snoop's Potluck Dinner Party; and in music videos by P!nk and Pitbull. His portraits are hanging in Ripley's Believe It or Not! museums and countless celebrity homes.
Q&A with Jason
What got you interested in working with Communities In Schools students?
I was inspired by all of the students' stories and the scale of the project. Creating seven 4×4′ portraits that incorporate several objects that represent these kids' lives was both challenging and rewarding.
Did someone inspire you to get into art when you were young?
Yes, my grandma. When I was a kid, she created paintings, mosaics, sculptures, collages, and stained glass work. It was everywhere in her house and yard. If she was working on a project, she would set up a table so I could create something, too. I started working with beans, noodles, rocks, and whatever else I could get my hands on. It just grew from there.
What's different for kids growing up in this generation?
I can't imagine how tough it would be to be a teenager in the world right now. There's just so much happening. And they have access to computers and cell phones, which didn't exist when I was growing up.
And words of advice for today's youth?
I know this sounds cheesy, but follow your dreams. You can't give up.